Steve Wise jumped at least 10 feet higher than the Grand National regulars on the Astrodome's TT course. (Courtesy American Honda)
Written by Larry Lawrence
Old timers who've been around the AMA Grand National Championship for decades still talk about it. That night in the Houston Astrodome in 1982 when motocross racer Steve Wise entered the Houston TT National and rocked the house.
Wise didn't make any friends with the establish Grand National riders, to be sure, but he left Houston that night a hero to 45,000 fans and forever changed the face of TT racing.
Wise was a leading Honda factory motocross and Supercross rider of the late 1970s, but the friendly Texan might have gone down in history as a memorable, but injury-prone motocross and Supercross racer had it not been for ABC's Wide World of Sports Superbikers. The Superbikers was a nationally televised forerunner of modern day Supermoto racing. Wise exploded onto TV sets across the country in a big way, winning the 1980 and 1981 Superbikers against some of the most talented fields of riders ever assembled. He instantly became one of the best-known motorcycle racers in America.
So impressive was Wise on the pavement in the Superbikers that Honda asked him if he'd like to try roadracing. And, guess what? He excelled at that, as well. So it was only natural that someone at Honda thought why not go for the trifecta and enter Wise in the Houston TT, the opening weekend of the 1982 AMA Winston Pro Series. Wise said, "Why not?" Honda mounted some 19-inch wheels and dirt-track tires and slapped the regional number 8N on Wise's Honda CR480R two-stroke motocross bike. Off to the Astrodome they went.
It was miserably cold in Houston on that early February night and the plan almost fell apart before it even started, Wise remembers. "I was sick as a dog and almost didn't even show up to the Astrodome. I only got one lap of practice I was so sick. I qualified 34th and I think they only took 40 riders."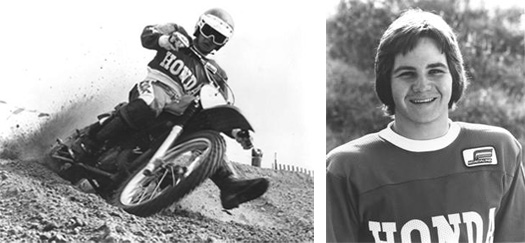 Wise plying his day job with Honda (left image – Courtesy American Honda). Steve Wise proved to be one of the most versatile riders in AMA racing history (right image – Courtesy American Honda)
But as Wise started riding he warmed up, loosened up and felt better. He started from the last row of his Heat race and charged through the pack on the tight Houston TT course. The crowd, prompted by announcer Roxy Rockwood, took notice. Wise got up to Steve Eklund and the two diced before Eklund fell. Even though the two were close, they didn't actually make contact. Yet Eklund's fall gave the other riders the excuse they were looking for to call for Wise to be DQ'd.
"Those guys didn't like this motocross racer coming in there and showing them up," Wise quipped. "And I don't blame them. Here I was a completely different animal, riding a motocross bike with motocross gear and taking Supercross lines. They were nervous to be around me."
Wise was taking the TT jump much higher and faster than the flat-track regulars and Gary Scott complained that Wise was going to end up landing on somebody. "He's out of control," grumbled the highly respected national champ Mike Kidd. To his credit the AMA's Competition Director Bill Boyce listened, but resisted the mob mentality and ultimately decided that everything Wise was doing, while certainly unconventional, was above board.
The Establishment thought that Wise would be eliminated in the Semi and that would be the last they'd have to deal with him. They were wrong. Wise was getting the hang of the track and won his Semi, meaning he had qualified for an AMA Grand National in his very first attempt.
You could almost see the steam coming out of the ears of the Grand National men. This motocross kid was going to find out what it was all about in the final.
"I really thought someone was going to intentionally try to take me out," Wise said. "But coming from Supercross that was something I had to deal with every weekend, so I was ready."
Wise actually rode more subdued in the main. It was a long race and Wise hooked up with TT specialist Mickey Fay and Kidd, both on more conventional Honda XR500-based machines, and the trio went to the front. The surprise was that Ricky Graham was way out front, on a Harley-Davidson XR750, no less! Kidd went down while trying to lap Terry Poovey. Graham, the Establishment's pride, won. The battle for second between Fay and Wise came down to the flag. Wise was dealing with a malfunctioning rear brake and Fay just nudged ahead for the spot.
Even though he got nipped for second, Wise remembers the night ended on a high note. Note only had he scored a Grand National podium in his series debut, but during the post-race interviews Fay said on the mic that his Honda teammate was the best motorcycle racer he'd ever seen. The fans cheered their approval.
"I finally felt like they accepted me a little bit," Wise said. "At the very least they respected me."
— Larry Lawrence, The Rider Files, November 10,2010
See original article ==> https://www.cycleworld.com/2010/11/05/the-1982-houston-mxtt-the-rider-files