STEVE WISE: THE GREATEST ALL-AROUND MOTORCYCLE RACER OF ALL-TIME
By Eric Johnson
On Dec 13, 2018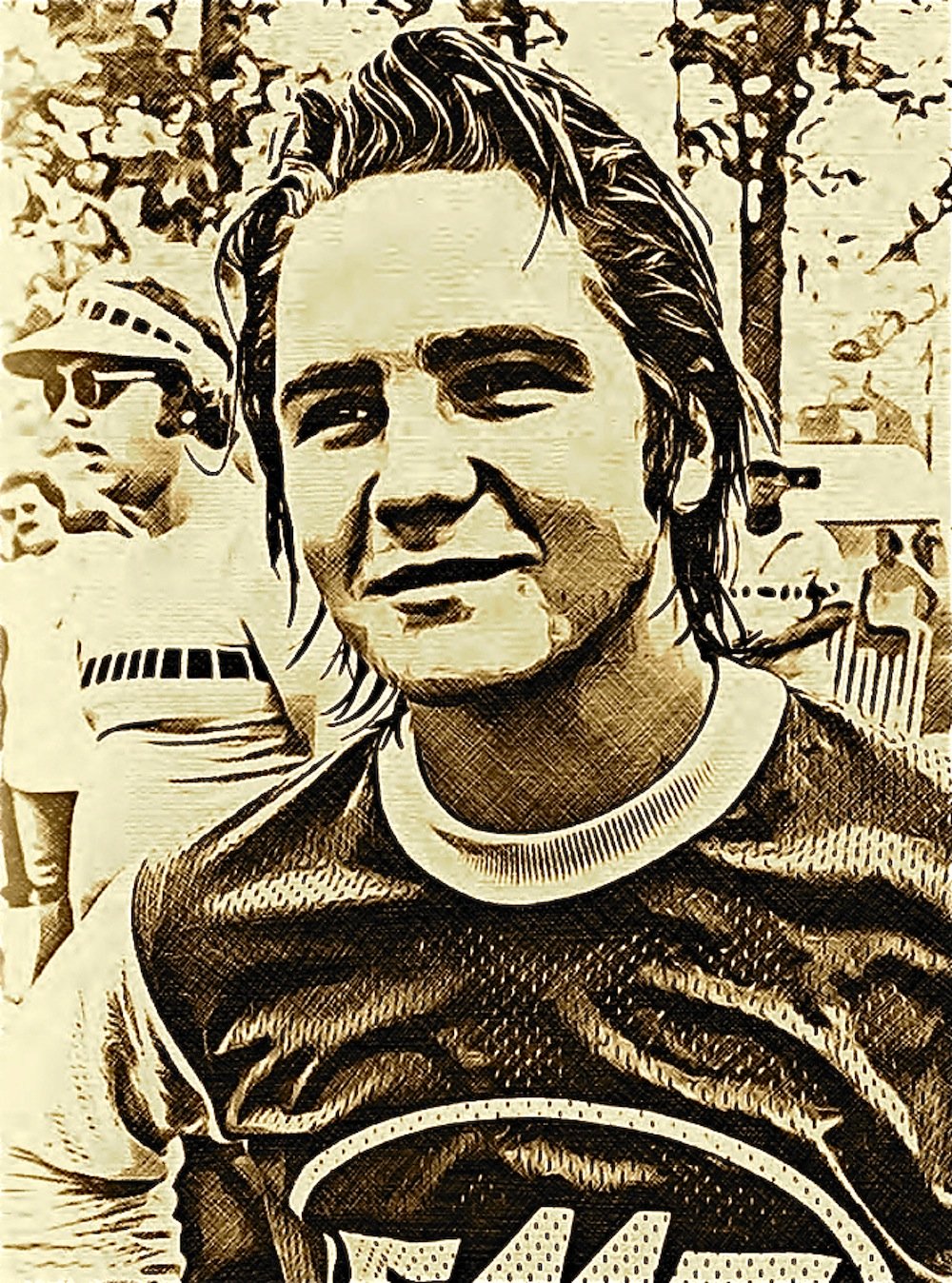 Steve Wise is the only rider in AMA Pro racing history to win an AMA 125 National, 250 National, premier Supercross, ABC–TV Superbikers, AMA Athlete of the Year and an AMA Superbike road race National. The Texan is rightfully considered the best American-born motorcycle racer of all time. It all started 38 years ago when Steve Wise and his works Honda CR480 waited for the green flag to drop and the ABC Wide World of Sport's Superbikers main event (the grandfather of Supermoto) to start. An hour later—and with nearly 30 million viewers watching him on national TV—Wise flashed across the finish line, winning handily over 500cc World Motocross Champion Andrea Malherbe and young Kawasaki Superbike ace Eddie Lawson.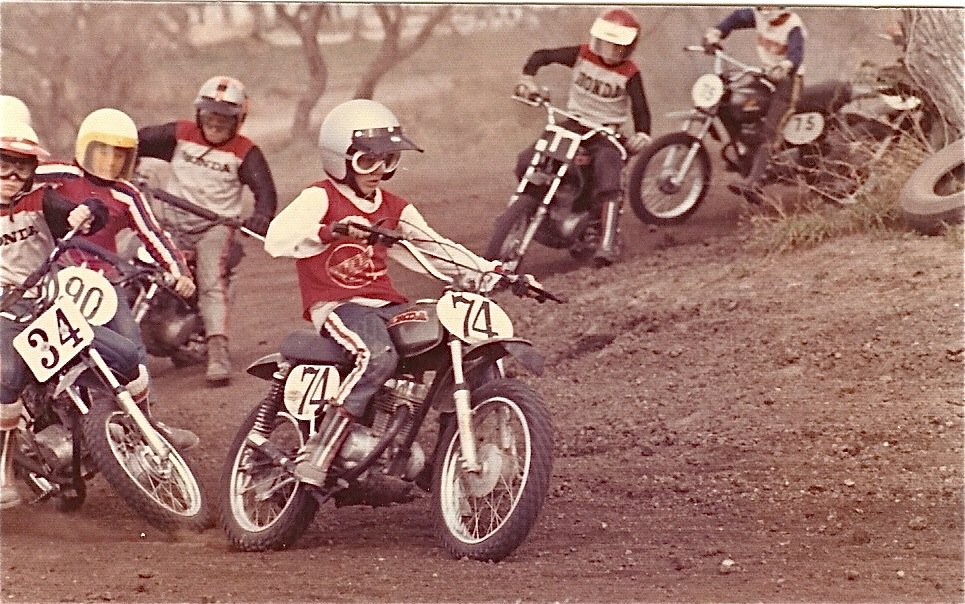 Steve Wise, then in the final year of his factory Honda motocross contract, came back to win the Superbikers again in 1981. Cognizant of the fact that he was out of work for the 1982 Supercross and motocross series, the win was something of a bittersweet affair for the Texan. But, then fate stepped in. With Honda star Freddie Spencer headed to Europe for the 1982 World Road Racing Championship, there was a vacant seat on Honda's road race team. Wise was asked to fill it. He did—and the rest is history. In 1982 Wise would miss winning the Formula 1 Championship against three-time 500cc World Champion Kenny Roberts and future World Champions Eddie Lawson and Wayne Rainey by a scant three points. For doing so, Wise was named the AMA's Pro Racing Athlete of the Year.
In 1983 Wise would win the Mid-Ohio Superbike National and become the only rider in AMA history to win a Supercross (New Orleans in 1979), AMA 250cc National (Buchanan, Michigan in 1980,) AMA 125cc National (Keysers Ridge, Maryland), AMA Superbike National (Mid-Ohio) and ABC Superbikers Championship (1980 and 1981). Wise even made the podium in an AMA dirt track TT race (Houston in 1982). Sadly, 1983 would also be the year that Steve Wise's spectacular motorcycle racing career would come to an end. Although his career was somewhat abbreviated (1973 through 1983), what Steve Wise accomplished in that period of time, especially when versatility is factored into the equation, is awe-inspiring. In fact, in the hearts, minds and opinions of many educated motorcycle enthusiasts, Steve Wise just may be the most talented, multidimensional American born motorcycle racer of all time. But, we are getting ahead of ourselves. Let's start at the beginning.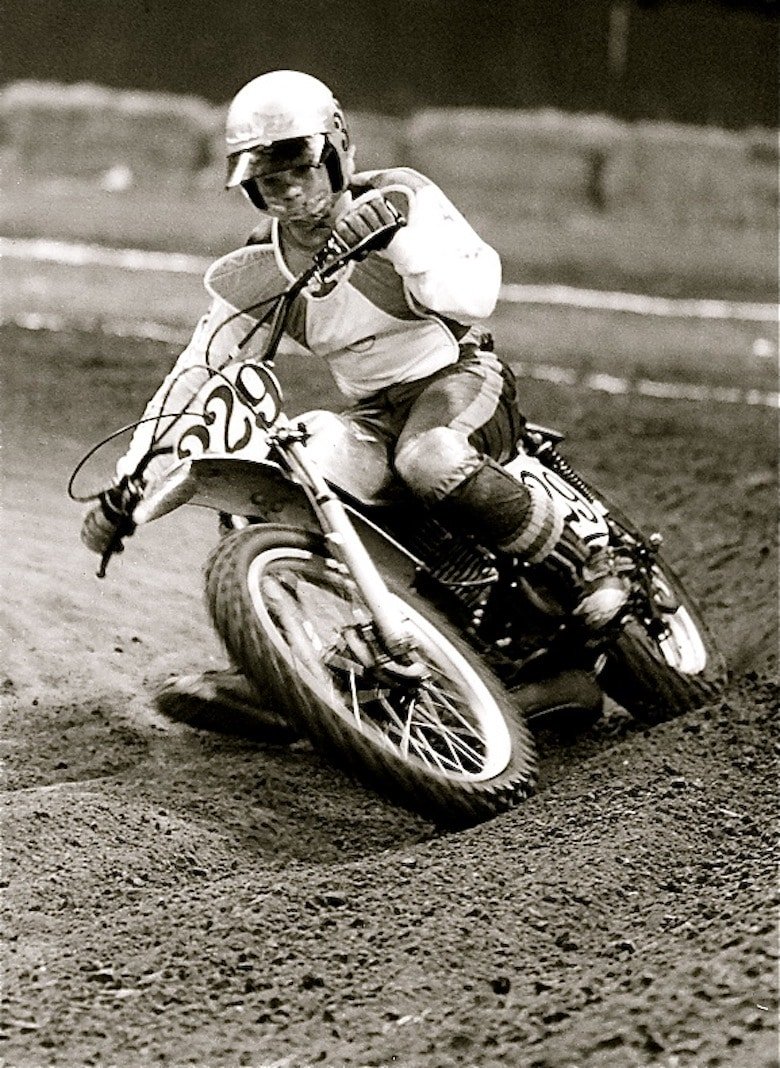 "I WAS 16 YEARS OLD. JIMMY WEINERT, GARY JONES AND KENT HOWERTON SHOWED UP TO RACE. I ENDED UP WINNING THE SERIES. KAWASAKI HIRED ME THE NEXT DAY."
"In 1973 I turned Pro and signed up to race the Texas State Championship," begins Steve Wise. "I was 16 years old. Jimmy Weinert, Gary Jones, Kent Howerton and other factory riders also showed up to race. I ended up winning the series. Kawasaki tried to sign Steve Stackable, but he had already signed with Maico. Steve didn't take the ride but said, 'Hey, there's this young kid down in McAllen named Steve Wise who is really fast.' So, Kawasaki flew me out to do a race at Carlsbad. I did well, and Kawasaki hired me the next day. I was kind of in shock, because I had never even been out of Texas before."
Wise started racing Kawasaki KX125s in 1975, but the bikes were so slow and ill-handling that he quit the team. He then duly went out and bought a Honda from his dad, who owned a Honda dealership back home in McAllen, Texas. Kawasaki called Wise back and talked him into racing for them again in 1976. Wise took the offer, but after just one race, the Hangtown National on April 4, he quit again. "Our bikes were 10 horsepower down to the Hondas. It was like riding an 80. So, I went and bought another Honda off my dad. On Sunday, July 4, 1976 (Bicentennial Day), Steve Wise, as a full-on privateer, won the 125cc National at Keysers Ridge, Maryland. He was the first privateer to ever win an AMA 125 National. "I won that race as a full privateer. In fact, Kawasaki team manager Tim Smith called me the next day to apologize for their bikes being so slow earlier in the year.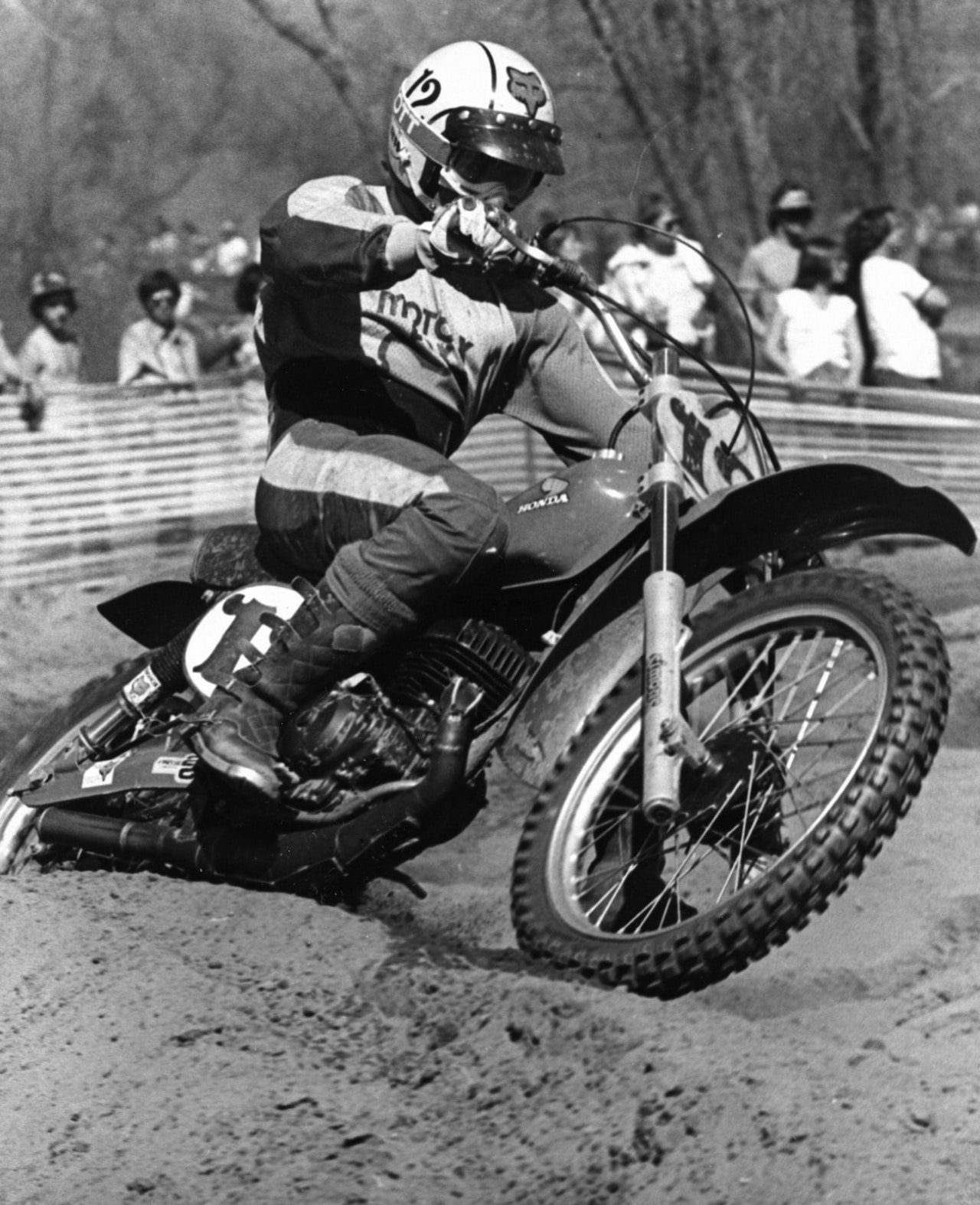 "After the 1976 season, Cliff White called me. Even though I had won a National for Honda as a privateer, they never showed any interest in signing me for 1977. I was pretty surprised—and disappointed. Cliff told me he had a deal with Moto-X Fox to field a team for a full run at the Nationals. I said, 'Let's go!' So Cliff flew down, and for two months we completely overhauled and changed my Honda CR125 in my dad's shop. It was the trickest 125 in the nation. It had Simon's forks, Fox Air shocks, and a factory tank and seat, which were given to us by Dave Arnold at Honda. The bike even had a very trick Mugen engine. With Moto-X Fox helping Pat Richter and me out, I ended up fifth overall in the AMA 125cc Nationals."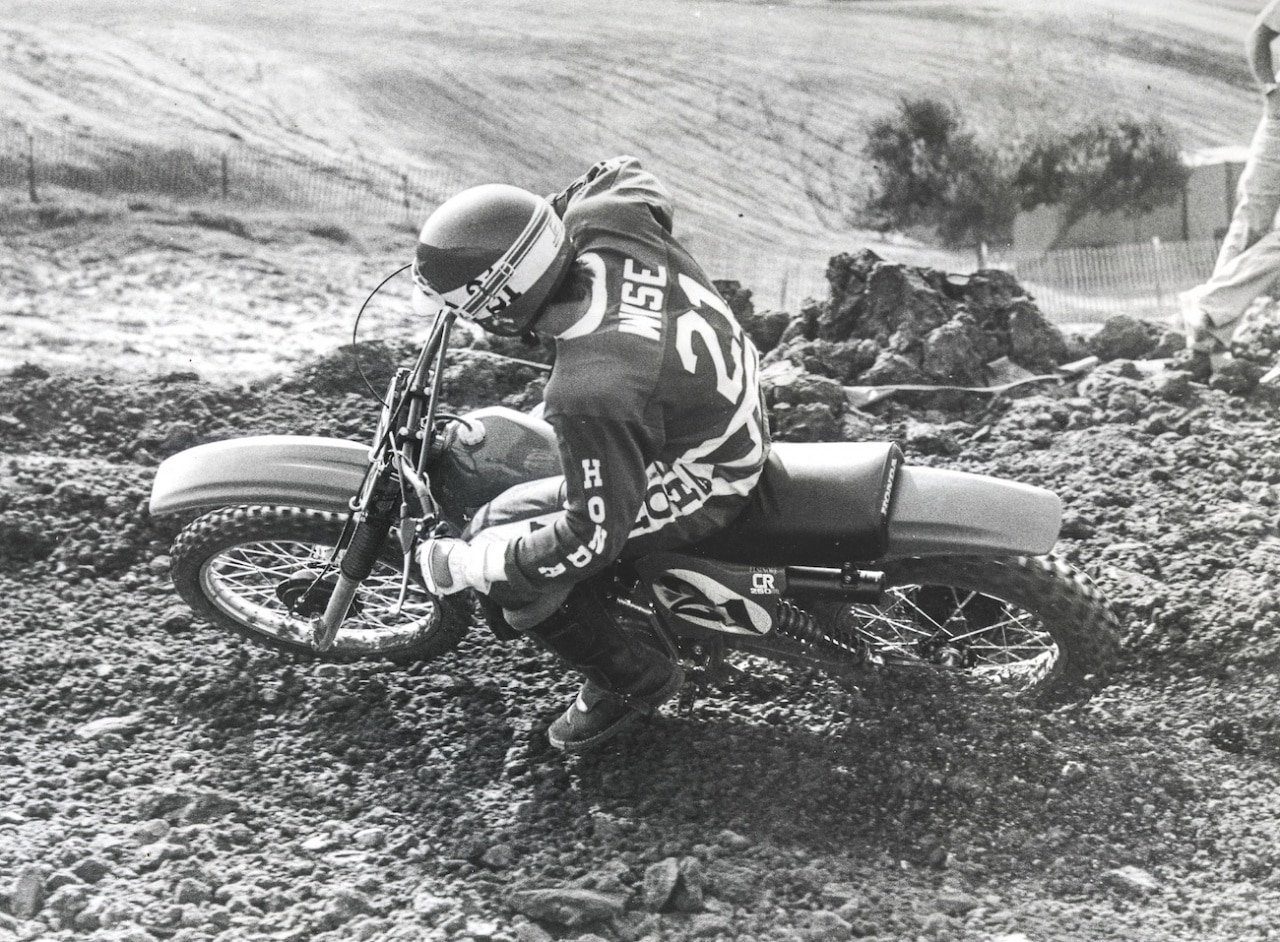 In December of 1977 Steve Wise signed a contract to race for Team Honda in the 1978 race season. He was fourth overall in the 125cc National Championship and seventh in the premier Supercross series. "In 1979 I moved into the 250 class, and on my birthday I won the New Orleans Supercross. That was an incredible feeling. I ended up fourth overall in the 1979 Supercross points and had a number of great races. It was a great year. But, in 1980 I was hurt a lot. I broke my wrist and my ribs and suffered a knee injury. A number of nagging injuries put me in a position where I couldn't train and I wasn't riding at my full potential. It should have been a great year, because I started off very strong. I led the Atlanta Supercross by a mile, like a quarter of a lap, before the bike broke. Then I hurt my knee at Daytona and was never able to get back to 100 percent. The bright spot of the season was winning the Red Bud 250cc National in June."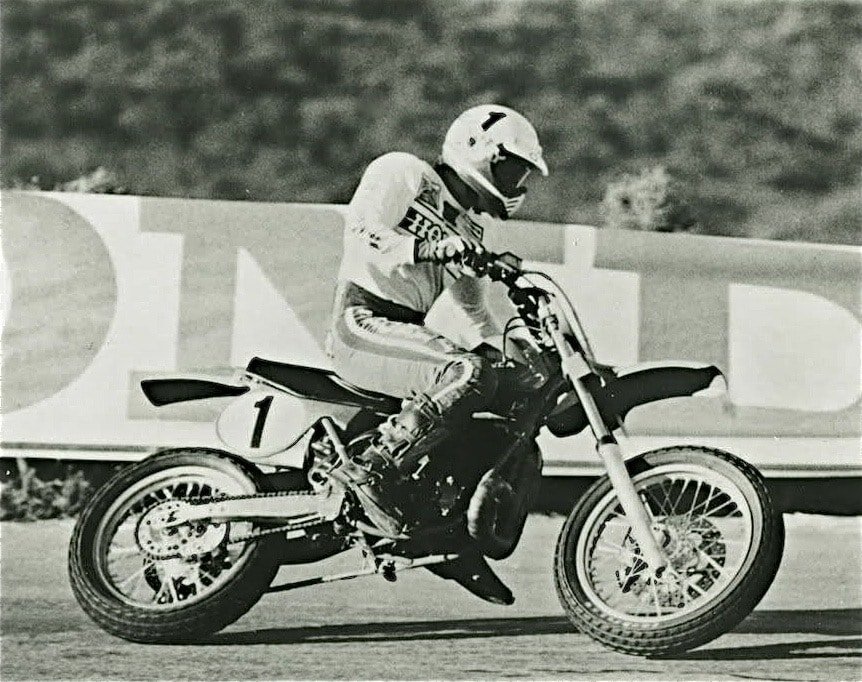 "IN 1981 MY MOTOCROSS SEASON, DUE TO INJURIES, WAS REALLY UP AND DOWN. TOWARDS THE END OF THE SEASON, DAVE ARNOLD APPROACHED ME AND TOLD ME MY CONTRACT WOULD NOT BE RENEWED, BUT THEN I WENT OUT AND WON THE SUPERBIKERS AGAIN."
On December 1, 1979, Carlsbad USGP promoter Gavin Trippe, with the might of ABC-TV backing him, held the ABC Wide World of Sports Superbikers race at Carlsbad Raceway. On a 2.1-mile track consisting of highspeed asphalt turns, a 100-mph drag strip, a sweeping dirt-track-style oval and a motocross course section, 25 of the world's best motorcycle riders came out to try to win their share of a $20,000 purse. As icing on the cake, a Nielsen-busting audience watched the race on ABC. It was an immediate and resounding ratings hit.
"I first rode the Superbikers in 1979," explains Wise, who finished well behind winner Kent Howerton. "It was a real last-minute deal. Our team manager that year said, 'Who wants to ride this Superbikers race?' Nobody wanted to do it, so I said, 'I'll do it.' I rode a big Honda open bike, but it had drum brakes. In less than a lap, my brakes were gone.
"When the time came for the 1980 Superbikers, I had a first-class bike that was phenomenal," Wise continues. "I fit the bike well, and we did a lot of testing. For two days we tested gearing on the Carlsbad track while I worked on my technique and learned lines. I felt really comfortable, and I loved it. During the test session, I was the only rider backing the bike into the corners. After practice, Roger DeCoster asked, 'Do you feel comfortable doing that?'
"I said, 'Yes!'"
"Roger said, 'Well, keep it up then.' He was amazed at how well I was riding the bike on the pavement."
Steve Wise and his number-nine red Honda took the lead of the 1980 Superbikers main event on lap number two and, despite some rear brake troubles near the end, never relinquished it. While on the victory podium with Andre Malherbe (second place) and Eddie Lawson (third place). Wise said over and over again, "It feels good, man; it feels good!"
And what did Team Honda think of his resounding win? "The Honda people were shocked at my road racing skills, but I still had another year on my motocross contract, so the race win wasn't discussed too much."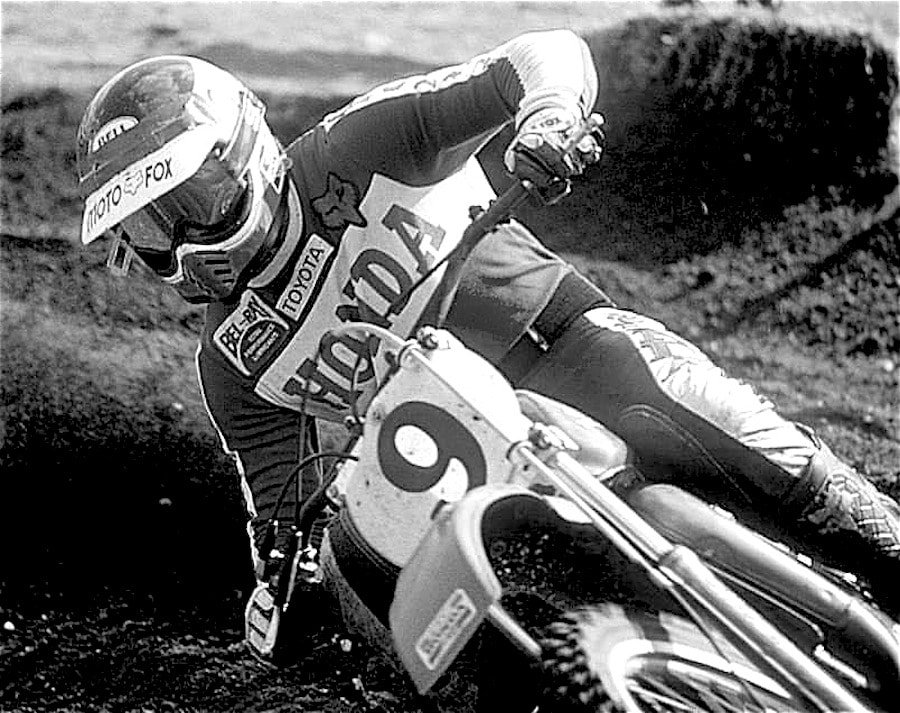 Then came 1981. While his motocross and Supercross seasons were both a bit of a bust, mostly thwarted by injuries, Wise showed up at Carlsbad on November 1 to defend his ABC-TV Superbikers title. He did it in a stomp-off, easily smoking to victory in the 12-lap main over 1979 500cc World Motocross Champion Graham Noyce and Road Race Champion Eddie Lawson. "In 1981 my motocross season, due to injuries, was really up and down. The bike also broke a lot. Towards the end of the season, Dave Arnold approached me and told me my contract would not be renewed, but then I went out and won the Superbikers again."
Not long after, the road race division of Honda asked the 24-year-old Wise if he would be interested in going road racing. He was very interested. After a successful test at Willow Springs, which he did on a 150-horsepower, 350-pound motorcycle, Honda liked what they saw and tendered Wise an offer.
Before the 1982 AMA Formula One and Superbike series launched at Daytona in early March, Wise decided he wanted to compete in the now long-gone Houston TT dirt track National. With friend Jimmy Straight, the two Texans worked on the CR480 engine. They straight-filed the head with a rat-tail file to lessen the compression so the bike wouldn't stall in the tight turns and then cut the frame to pull the rake in, optimizing cornering.
"I was so sick that night that I showed up just five minutes before qualifying," says Wise. "I ended up qualifying 34th out of 38. In my first race, I was in the back row. I ended up working my way up to fifth in the race. They only took the top four to the main, so I had to ride a semi. I won that easily. I was in the last row for the main event. At the start, everyone went really wide in the first turn, so I hugged the inside and came out of the first turn in sixth. I got into second place, right behind AMA Grand National Champion Ricky Graham, but then my brake cable broke. For the last four laps I tried to hold off Mickey Fey, but he eventually got by me to finish second. I ended up third."
On Sunday March 7, 1982, Steve Wise lined up for his first professional road race, the Daytona 200. "I rode the 1982 200 on a 1981 in-line four-stroke, while my Honda teammates Freddie Spencer and Mike Baldwin got the new V-4 FWS. That bike, [the FWS], was a huge deal, because Honda quietly told all of us that it was a true one-million-dollar motorcycle. Meanwhile, my bike had a half-faring and was nowhere near as quick. In fact, Marco Lucchinelli, the 1981 500cc World Champion, flew to Daytona from Italy to race the 200. When he saw the bike Honda had waiting for him, the same type of bike I was going to ride, he turned right around and flew home."
Nonetheless, Wise placed a highly respectable seventh in the Formula One class.
Wise continued to improve at each and every race. In fact, on June 19 at Loudon, New Hampshire, he and a young rookie named Wayne Rainey fought tooth and nail for their first-ever wins in the Superbike class. "At Loudon, Wayne Rainey and I were both going for our first victory. We were going nuts. Eddie Lawson and Mike Baldwin were way behind us. We could both see that first win ahead of us, and we were wide open. With one lap to go, I lost the front end and hit the pavement. I still had that killer instinct and really wanted to win, but I ended up with a big crash."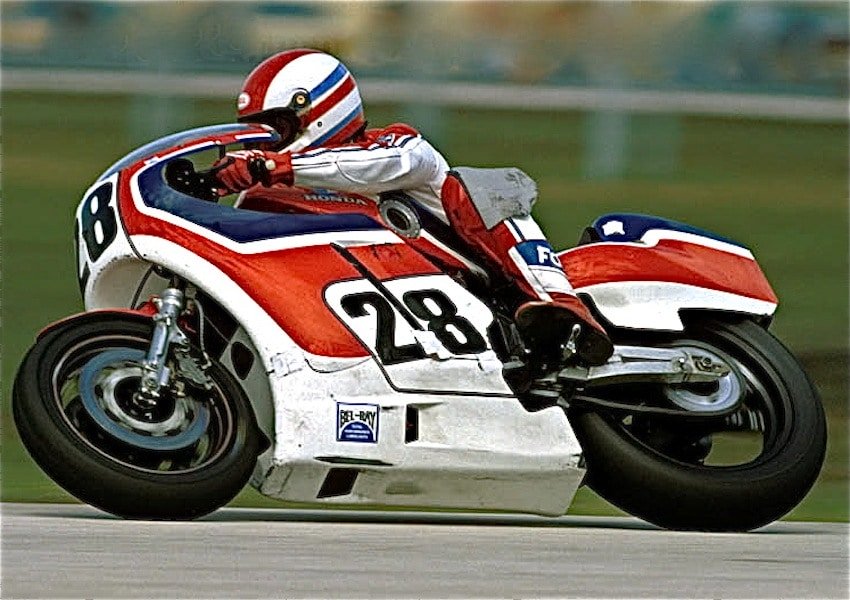 STEVE WISE WENT INTO THE FINAL FORMULA ONE ROAD RACE OF THE 1982 SEASON AT SEARS POINT, CALIFORNIA, HOLDING THE AMA SUPERBIKE POINTS LEAD. A PRO MOTOCROSSER JUST ONE YEAR EARLIER, WISE WAS ON THE BRINK OF WINNING AMERICA'S NUMBER-ONE ROAD RACING CHAMPIONSHIP.
With five of the six races run, Steve Wise went into the final Formula One road race of the 1982 season at Sears Point, California, holding the AMA Superbike points lead. A pro motocrosser just one year earlier, Wise, astonishingly, was on the brink of winning America's number-one Road Racing Championship. "I went into the final round at Sears Point leading the Championship by one point. If my teammate Mike Baldwin won the race, I had to get second. But, during the race, I just couldn't get by Wes Cooley, who was in second place behind Baldwin. I knew I needed to get by him, and I was dying inside. Sears Point was very treacherous back then, and I remember thinking to myself, what is this worth? It's not worth getting hurt over. I just couldn't find a way by Wes, at least a way that would not take the two of us out. I wasn't going to do that."
When all was said and done, Baldwin won the championship over Wise by three points—72 to 69. "It really was heartbreaking," Wise laments. "I was very disappointed. On the other hand, I was already looking forward to 1983. I knew I was one of the best riders in the U.S. and that I was definitely in the mix."
With a very strong showing at Daytona on March 13, the 1983 campaign started off very well for class sophomore Steve Wise. "When I showed up at Daytona in 1983, people surrounded me everywhere I went. I was mauled by photographers and journalists from all over the world. For Daytona, Spencer and Baldwin got the new NR500 two-strokes. I was on the V-4 FWS. I ended up finishing third behind winner Kenny Roberts and Eddie Lawson [who both rode potent, yellow and black Yamaha OW69s]. Not bad company to be in, huh?"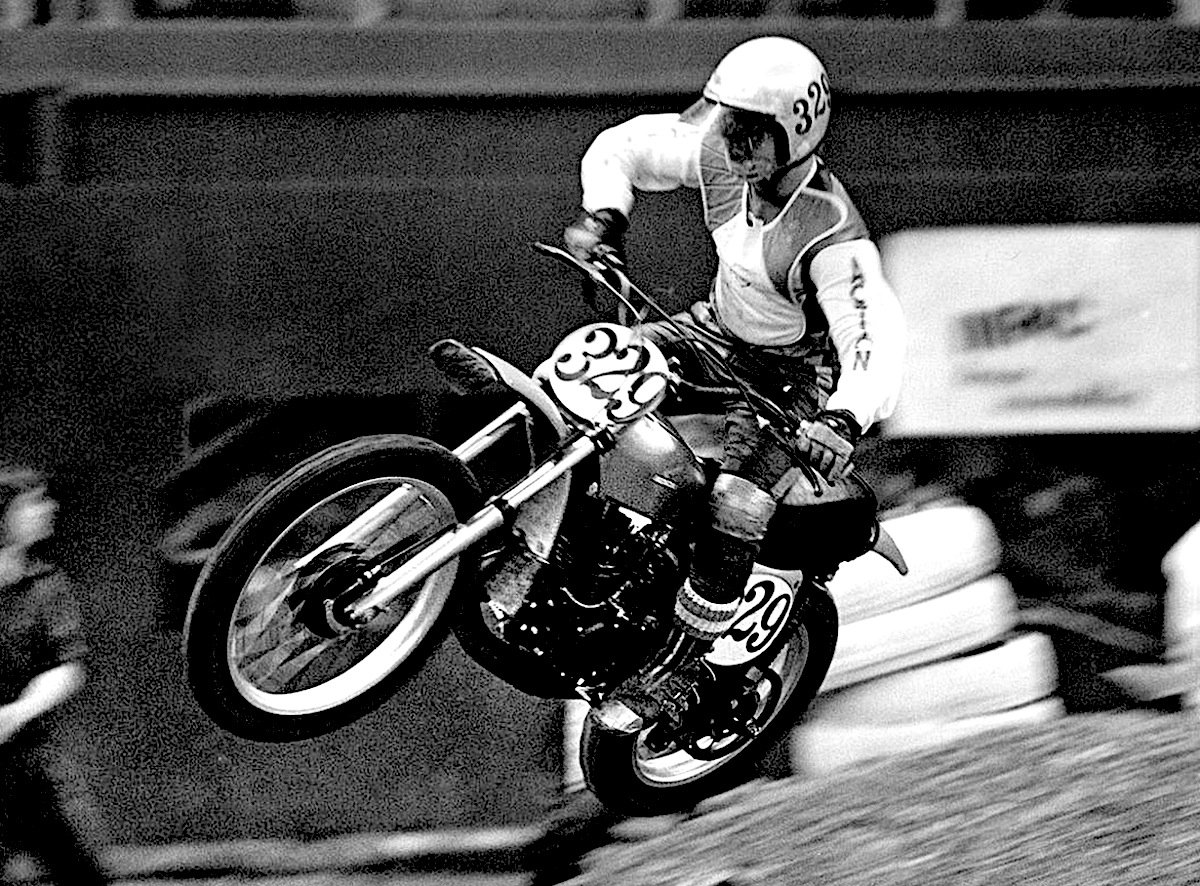 "I HAD NO BUSINESS COMING BACK. I WENT OUT FOR THE FIRST F-1 PRACTICE SESSION. KENNY ROBERTS CAME BY ME, AND I SAID TO MYSELF, 'I'M GOING TO STAY WITH HIM."
At round three of the 1983 Superbike Series, Wise crashed hard at the Riverside, California, round. So hard that a series of photos shot by a UPI photographer capturing the crash ran in newspapers all over the world. A month later and healed up, Wise returned to action at Mid-Ohio on May 21 and 22. It was a bittersweet weekend for the Texan. After winning the Superbike National on Saturday, on Sunday he went to the line for the F-1 National on his new bike, the nasty NS500 two-stroke. Wise placed second to Baldwin in the race, but he struggled to come to terms with the violent 500.
Then, in early June, Steve Wise's spectacular rise to prominence in road racing took a dramatic turn for the worse. "Elkhart Lake—oh my. That's where the two-stroke got me. I remember that day clearly. I was having a rough time switching from the 475-pound 750 four-stroke Superbike to the 270-pound two-stroke F-1 bike, which had the powerband of a light switch. I was really struggling jumping back and forth from one bike to the other. Freddie Spencer and Mike Baldwin could do it, but they were much more experienced than I was.
"I went out to ride the 500 and crashed hard. I was later told my face smashed right into the track when I came off the bike. I don't remember a thing. I was out for 10 hours. When I woke up in the hospital, I didn't know where I was. I ended up missing over half the races and tried to come back at Laguna Seca in July because I was still in the running for the F-1 Championship. I was like, 'I'm coming back!' Udo Gietl, Honda's road race team manager, said to me, 'Are you sure?'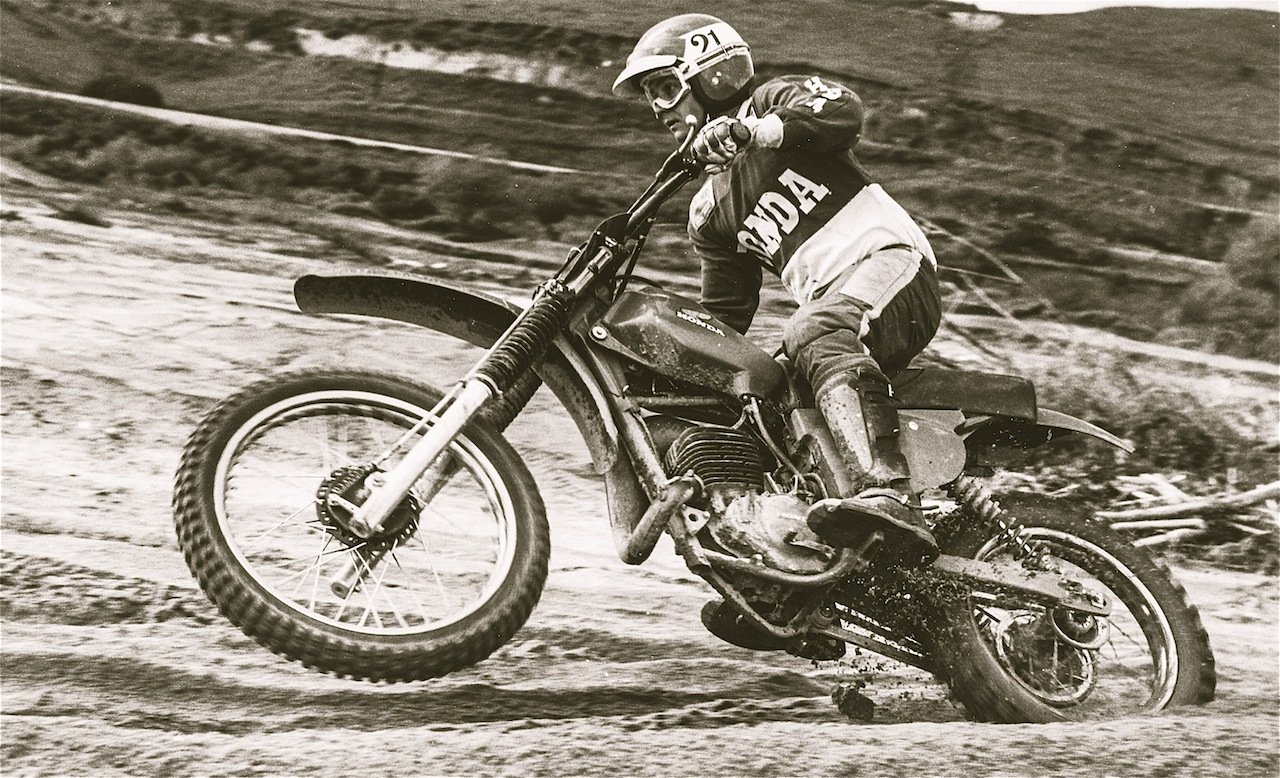 "I had no business coming back. I went out for the first F-1 practice session. Kenny Roberts came by me and I said to myself, 'I'm going to stay with him.' I came out of turn nine, and at around 80 miles per hour, got sideways and slammed into a wall. When I came to, I was in terrible pain. I went to the hospital and was informed that I had internal bleeding, broken ribs and two broken collarbones. Udo came into my room and I said, 'Udo, I don't want to do this anymore.' I knew right then I didn't have the eye of the tiger. I did not have the killer instinct to be the best. I admitted that to myself right then and there. Even though I had a year and a half left on my Honda contract, we talked it through. They gave me a very nice severance check, and I called it the end of my career."
After retiring from racing, Wise went on to Bible College and became an ordained minister. He is a frequent featured speaker at Christian meetings, vintage races, AMA Supercrosses and church gatherings.