Written by Davey Coombs – March 30, 2012
With Monster Energy AMA Supercross deep in the heart of Texas this weekend, we thought we would revisit the 10 Best Texans motocross has ever known. With the help of longtime Texas race-watcher Shand Garcia of Holeshot Magazine, here's what we came up with. To check out all of these guys' career outdoor national results, check out Racer X Online's Vault.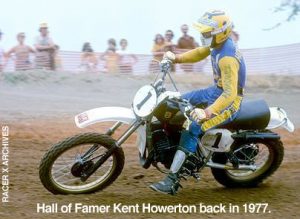 1.) Kent Howerton
The "Rhinestone Cowboy" was a three-time AMA Motocross Champion, winning his first title in 1976 on a Husqvarna and the last two on Suzukis. Howerton was also a Trans-AMA Series Champion, as well as a member of some early versions of Team USA. He's a Motorcycle Hall of Famer, as well as the rider credited with bringing the technique of slipping the clutch out of corners to motocross.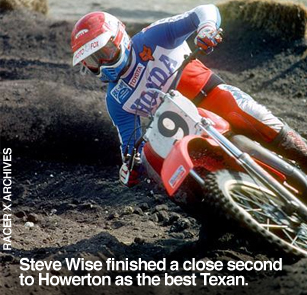 2.) Steve Wise
He was a privateer who beat both Bob Hannah and Marty Smith at a 125 National in 1976, then become a factory rider with Honda, then quit motocross at a relatively early age to go road racing, winning a Superbike race there as well! Many consider Wise to be one of the most versatile riders in all of motorcycling.
3.) Steve Stackable
"Short Stack" won the 1975 AMA 500cc Supercross Championship, scoring four outdoor national wins while riding for an assortment of brands, including Maico, Suzuki, and Kawasaki. Stackable held top-ten national numbers for five straight years.
4.) Wyman Priddy
The "Father of Texas Motocross," reports Garcia. Priddy was the first Texan to become a factory rider, as well as the first Texan to win an outdoor national. The Fort Worth native scored his win at the Washington, Indiana, round of the 1972 AMA 500cc National Motocross Championship.
5.) Blake Wharton
He's a current rider for Rockstar Energy and the only rider in Lone Star State history to win a Supercross Lites main event—something he has now done twice, including the Indianapolis SX just a few weeks back. He's also the only rider on this list who will compete in tomorrow night's Houston SX.
6.) Kyle Cunningham
Another incredibly fast young rider, Cunningham ended last summer as the fifth-ranked 250cc rider in the Lucas Oil Pro Motocross Championship. While this season has been a mess so far—he has been the victim of too many bumps and bruises along the way to show his full potential—the Star Racing/VMS Yamaha rider has a lot of good races ahead of him and should be back up to speed for the outdoors.
7.) Danny Storbeck
While some fans will remember the very fast Storbeck for the unfortunate collision with Ricky Johnson at the '89 Gatorback National that ended RJ's reign as America's best rider, Danny actually finished the 250 National fifth that day. He's also the only person ever to win three classes at one Loretta Lynn's Amateur National, as the rules were changed the next year.
8.) Dennis Hawthorne
He's the OG King of Arenacross racing. Hawthorne was a very fast man back in the day, and he found a great niche for himself in Mike Kidd's fledgling National Arenacross Series, where he won multiple championships.
9.) Jeff Dement
Another incredibly fast Texan, Dement rates as one of the all-time fastest minicycle racers. But his early career was fraught with injuries, and he ended up racing in Europe for much of his later years in pro motocross.
10.) Charley Bogard
This kid was Ricky Carmichael's nemesis on 80s! Charley also rates high on the list of all-time fastest minicycle racers, but he couldn't stay healthy when he turned pro, and his career results do not reflect his true potential.
And some honorable mentions: Jason Langford, Grayson Goodman, David McClain, Kirk Spencer, Jody Foust, Bobby Pickard, Dan Conway, Terry Tinney…. There are too many to list!
You may be thinking, what about Matt Lemoine? Just like Texas transplant Trampas Parker, he's a Louisiana born rider so when we get to that list, you'll be sure to see his name.
Link to original article ==> https://racerxonline.com/2012/03/30/the-list-ten-best-texans